Shala Darpan is an ICT Programme of Human Resource Development, Government of India to Provide Mobile Access to Parents of Students of Government and Government aided schools.
About Shala Darpan (शाला दर्पण)
Today, information technology plays an important role to run an organization smoothly. So, MHRD, GO(I) also decided to use technology to improve transparency in Education System and launched Shala Darpan Portal to provide better insights of its Schools to the parents.
Basically, Shala Darpan is a dynamic database management portal for Government & Government-aided Schools.
Read More:
ShalaDarpan is a database portal operated by the Rajasthan state government for the secondary education department, where all the information is entered & updated online from time to time.
This information is available for everyone on Portal (शाला दर्पण पोर्टल). Presently all the data of primary and secondary education schools, employees and students are available online at the portal.
Shala Darpan portal was started by RMSA (Rashtriya Madhyamik Shiksha Abhiyan).
Now, RMSA has changed to SMSA & SMSA stands for Samagra Shiksha Abhiyan. Therefore ShalaDarpan Portal is run by SMSA (Samagra Shiksha Abhiyan) now a day.
On this portal student admission, TC (Transfer Certificate), school name, class, age, result, etc are updated by respective Schools.
As we already mentioned in the above paragraphs that Shaala Darpan is an ICT program of MHRD, Government of India that provides mobile access to parents of students of Government and Government aided schools.
Now have a look at what are the uses of Portal
Uses of ShalaDarpan Portal (शाला दर्पण पोर्टल)
Using Shaala Darpan parents can view updates on their child's progress. They can view records of attendance, assignments and achievements of their child. The ministry aims to launch the service by the 2015 academic session.
Shaala Darpan Portal of Rajasthan Teachers & Schools is all about Rajasthan Government Teachers, Government Schools, Government Aided Schools & Its Students.
In this portal Information about all Government schools and education, Offices are kept Online and Updated as a continuous process. In this Portal, " Live Data" is compiled in connection with primary and secondary education students, school and academic and non- academic staff.
I hope after reading the above paragraphs you have a brief knowledge about the ShalaDarpan Portal. So, now I am going to explain how to login on Portal. I've also written a brief article about Pay Manager, you can read all about Paymanager.
How to login on Shala Darpan?
To complete several tasks on ShalaDarpan, you've to login on the Portal. So, here I've explained 7 Step Guide about how to login on Shala Darpan:
#1. First of all, you've to go to the Home Page of Shala Darpan by clicking on this link – Click Here.
#2. The home page of the portal will look like the below image.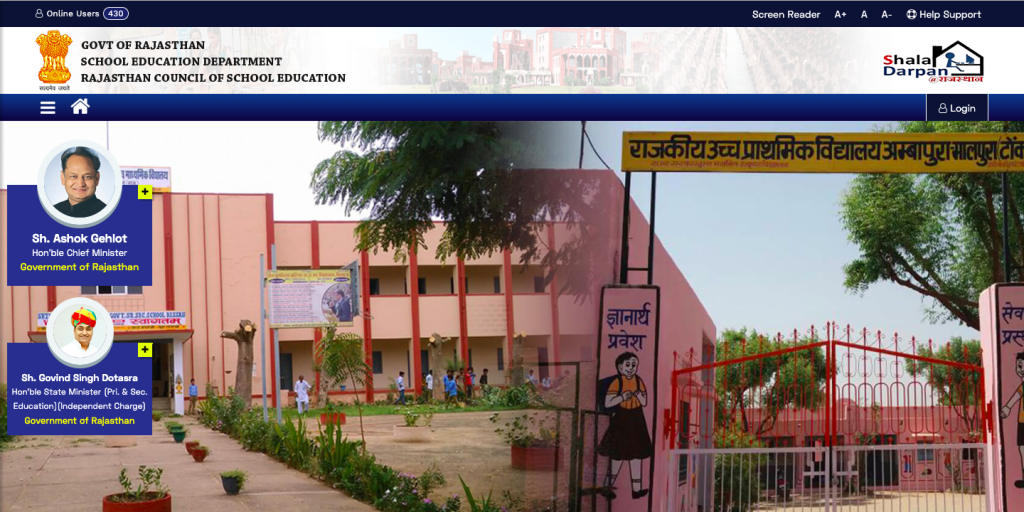 #3. Now you've to click on the right side corner "Login" button as shown in the image below (in the red box) for ShalaDarpan Login.
#4. When you'll click on the Login button, a new page will open which will look alike the below image.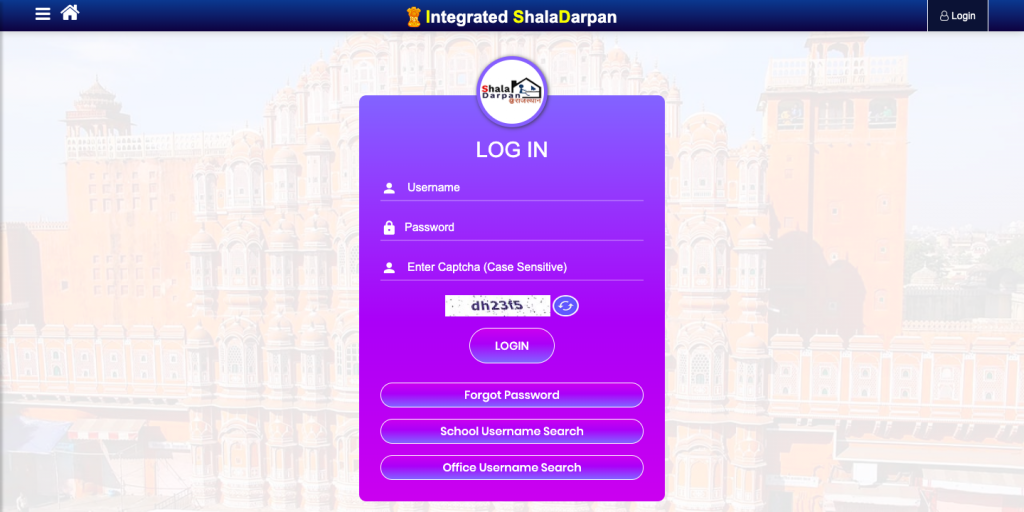 #5. Here on this page, you have to enter your Username, Password and Captcha (as shown in image).
#6. After filling these details click on Login Button.
#7. Now, you'll be at Dashboard where you can perform various tasks.
As I told you in step 7 that after logging in, you can perform various tasks on the portal. Let's have a look at how you can use the Portal and take an overview of its features:
Portal Utilization & Overview
Shala Darpan School Staff Search: You can search for School Staff on shaladarpan portal.
Shala Darpan School Search: Schools can be searched on the portal for information about a particular school.
Shaladarpan School Login: Schools can login on the portal to update various information about school and students.
Shala Darpan Staff Login: School Staff to login on the portal.
Shala Darpan Teacher Login: Teachers can login on the portal to update various personal information.
Keeping Education Department updated with school-level information.
Shala Darpan Teacher Search: You can search Teachers on the portal for information about teachers.
Shala Darpan Staff Window: There are different types of windows are available on the portal.
Successful evaluation of their co-scholastic activities with the regular entry of the students 'level of learning'.
Effective implementation of schemes by accelerated monitoring at the state level.
Online joining and reliving.
Add. Budget demand (TA grant, Paid up budget, verdiya)
Online transfer certificate.
Free textbook distribution.
Rajasthan state vacant teacher post.
School infrastructure module.
PEEO Monthly Progress Report.
I hope you got a brief idea about Shala Darpan Portal, its features and uses.
If you still have an issue with the portal, let me know in the comment box below. I'll try to help you as soon as possible.
Thank You.